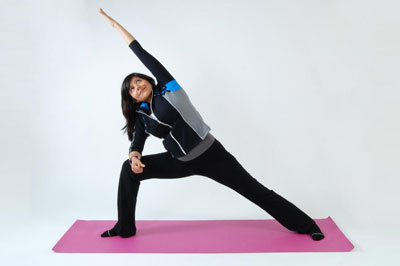 I am blessed with practice of yoga and meditation for over forty five years. My passionate journey of yoga started at the age of thirteen when I saw a Himalayan Yogi practising yoga under a tree on the bank of the River Ganges (Ma Ganga) in the yoga land of Rishikesh, India. I was completely drawn to his practice and there started my journey of yoga. For me yoga has become my everlasting ritual. Now it is the dance of my body and the rhythm of my breath.
I have lived and visited Himalaya (land of Yogis and ancient Rishis) more than twenty times in my quest to experience real aspects of yoga and to understand deep purpose of this ancient wisdom, during this journey I was fortunate to learn to unfold this highly encrypted language of yoga from many revered Himalayan yogis and gurus. It was encrypted in the form of symbols, imagery, carvings on the walls of ancient caves and spiritual places and Vedas and other ancient scriptures. All original texts on yoga and Vedas are thousands years old scriptures in the form of very condensed phrases/verses with deep meaning.  It took me couple of years to visit those places and spent good length of time to unfold some to get deep message and purpose. My interest became very deep and decided to learn Sanskrit language to understand original yoga texts. I would say I am still on the journey to unfold.
My teacher training was heavily in India and also by British Wheel of Yoga (BWY Dip), London.
Having experienced the transformational power of yoga, I am committed to sharing the benefits of this ancient art and science with passion and enthusiasm while consistently looking for ways to improve myself as a practitioner, teacher and Guru. I strongly believe that the regular practice of yoga and meditation improves health and can increase self-awareness, thus deepening knowledge of our true nature for a more balanced and positive outlook on life.
I am completely dedicated to deepening my knowledge of this ancient art and science to live a fulfilling peaceful life and to serve humanity. Presently I am leading a life of yogini (grounded in inner joy and peace) and serving through my heart and soul to my disciples, students, followers and community to uplift their feel, ground into happiness and inner peace, release stress and enhance well being.
Yoga and meditation has blessed me with enthusiasm and appreciation of life no matter what is a true bliss. Meditation helped me to release stress and accessing inner peace and calmness. Along with yoga postures meditation is incorporated in my every  class which helps my students to release stress, feel stronger, calm and able to sleep better. My work is focused on releasing stress from cellular level and realise a deep sense of well being.
Regardless of my busy routine I am dedicated to serve voluntarily to share moments of some joy, calmness, relaxation, fun and laughter with the Peace Hospice patients.
Every year I do residential Yoga Retreat where people get opportunity to empty their mind and start afresh with positive energy and lifted feel. These yoga retreats are focused on mental, emotional and physical well being. There are several enjoyable activities to release blockages, barriers to move forward and unwanted emotions and mind side load.
I have been teaching yoga over forty years now and have developed a unique and personal teaching style to resonate whole Being while keeping classes diverse, focused and fun. My classes are combination of Hatha , Vinyasa, Kriya yoga ( to enhance physical well being),  Chakras balancing yoga -(to enhance vitality and integration) , Pranayama – breathing techniques (to release stress and stored emotions), Yoga Nidra meditation for deep relaxation and Chanting- positive frequency vibratory sounds to soothe nerve.
A wish from Veda- SARVESHAM SWASTIR BHABTU! SARVESHAM SHANTIR BHABTU! SARVESHAM MANGALAM BHABTU! SARVESHAM PURNAM BHABTU
English expression: May all be blessed! May all be healthy and prosperous! May all be able to ground in inner peace! May all be able to experience completeness, wholeness!
People's experience:
Sunday morning yoga with Mala – I love it. Gives me permission to slow down. Allows me to challenge mind and body. Offers me an hour of feeling connected. Teaches me about our amazing bodies. Energises me for the week ahead. And delicious ginger tea at the end sometimes! Thank you Mala for sharing your gift with us – Helena Jackson

I would like to express my thanks and admiration to my beloved teacher Mala DiS. She is truly inspirational, motivational and a superb teacher. Her Yoga classes are always fun and the variety keeps you wanting more every week. Her enthusiasm and interest in EVERYONE who attends her classes is amazing. I have a lot more co-ordination than I started with. I fully intend to continue as it has become an integral part of my life – Panchali Sinharoy
Mala is much more then yoga teacher. She is like illuminating guide, full of love, tenderness and calmness, always ready to show her students the way into their hearts, where a real trasures are waiting to be found.